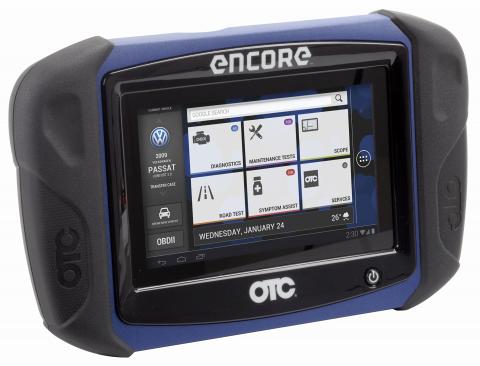 The OTC Technician Challenge is going on tour with dates in six states, showcasing the Encore with new Bravo 2.0 software. Technicians nationwide will compete to win one of three Ultimate Diagnostics for Life packages. Ultimate Diagnostics for Life winners will receive an OTC Encore kit with a lifetime hardware warranty and lifetime diagnostics subscription from OTC.
Co-hosted by OTC and distribution partners, technicians will be challenged with random vehicle diagnostic issues and tasked with identifying the problem using the OTC Encore. The technician with the fastest time at select events will receive a $150 cash card from OTC. Any technician who pre-registers and attends an event will receive a free pair of OTC technician gloves. The three fastest times nationwide will win the Ultimate Diagnostics for Life package 
Technicians can register to compete in the national Technician Challenge tour by visiting www.OTCTools.com/technician-challenge and selecting a location. Tour dates are currently scheduled in Texas, Utah, Illinois, Nevada, Oklahoma and Florida. In addition, technicians can submit requests for OTC to host diagnostics clinics in other areas at the above link.
The Technician Challenge tour started at Automechanika Chicago, April 24-26, and will run through Nov. 5, ending at the Specialty Equipment Manufacturers Association (SEMA) show in Las Vegas.
The clinics will be led by the OTC field training specialists (FTS) team, providing hands-on training for technicians. The training will focus on various areas of diagnostics, including reset/relearn procedures and diagnostics best practices.
For more information on Diagnostics for Life and the OTC Encore and lifetime warranty, visit www.OTCTools.com/Diagnostics-For-Life.
The Ultimate Diagnostics for Life and the lifetime software subscription provides a technician with a hardware warranty and diagnostics subscription for the life expectancy of the OTC Encore.